Major phases of Paka's Artwork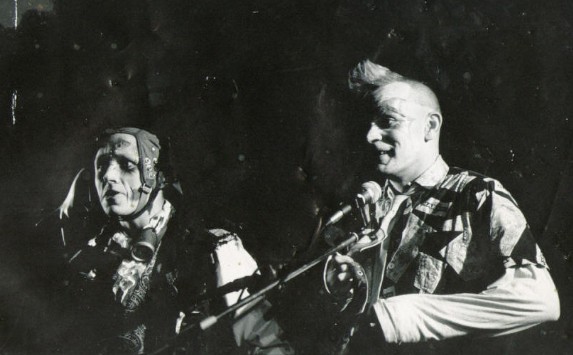 The early years
Tak 'n' Tat 1986-1990
A collaboration with Mikey Lynes
A hack-about Trans European clowning duo caught on an acrobatic roller coaster, dedicated to spreading hilarious mayhem. A unique blend of serious stupidity for all ages.
"There is something amazing about being on the road supported by the money in the hat from each community you pass through."
In these years, Paka learnt the how, when, where a
nd why of entertaining people. It was theatre school of the street. The site- specific choice of location and timing for the event became an essential element to the success of the Theatre.
"It became second nature. If we could not find a good place we moved to the next town. Once this nut was cracked the need for wage labour was history. We ended up craving more control over the environment we performed in."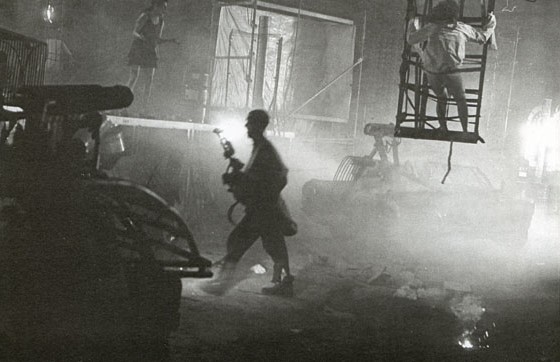 "Exotic, exciting, sometimes disturbing."
"Postpunkmoderne projiziert Bilder zwischen
Mad Max. Rocky Horror Picture show und Fellinis Satyricon."
Paka was a founding member, key performer and an artistic director of this international pyro-acrobatic performance troop.
DNTT was a core of eighteen artists comprising seven different nationalities that created a 'before its time' fusion of circus, theatre, fire and machine mayhem.
With a D.I.Y. punk rock attitude they made
'
Total theatre in unreal cities'
,
beginning in large underground or squatted venues across Europe.
The cultural chaos of the demise of the Berlin Wall in1989 was like a magnet and their first big show in Berlin was in the back yard of the now iconic
'
Kunsthaus Tacheles
'
in 1990.
With the backing of the Berlin Cultural Department they then hosted two '
Feur and Schrott
'
festivals
programming other acts and bands and collaborating with companies such as Mutoid Waste to expand the vision of their own show.
The first
of these was on the
Marx Engels Platz in 1992
. The second
was in the 'Arena' venue Kreutzberg 1996. DNTT premiered their second show F88 at this event.
Mainstream culture caught up with DNTT and they achieved national acclaim in Berlin and Spain in early 90's. They started to programme other large outdoor arts festivals alongside companies such as Les Fura dels Baus and Royal Deluxe.
" bringing the bad to the beautiful- in an anarchistic, vicious and beautiful show"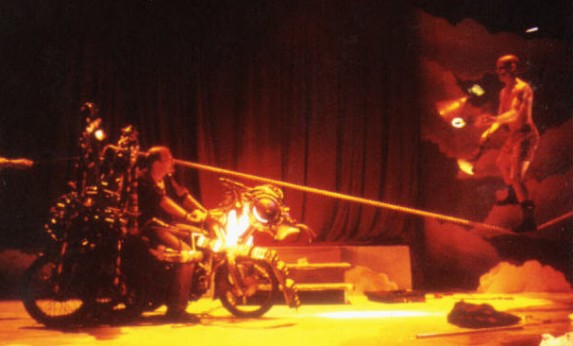 Paka the Uncredible and Matilda 1994-2003

Paka, a cantankerous old man, having surfed the seas of alternative comedy and new circus, decayed through the era of Glam and Glitz, is now left with nagging questions about the validity of his own existence. Who am I? … What am I? …What am I doing here? …
Matilda, a six wheeled, motorized, flame spitting, insect bike (his co-star and only friend) has her own agenda. This causes a constant tension in their relationship.
Matilda was originally commissioned for a Dutch film,
Sirko by Ineke Smits
in 1993
. She had seen DNTT perform in Berlin in1992. Paka devised the Matilda show in Spain in 1994 for the wake of a good Spanish friend. His death led to Paka's departure from Spain.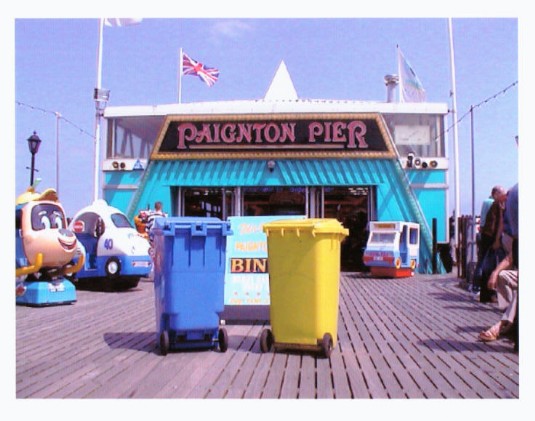 Boffins and Bins 1999-2003.
(Roger Hartley)
This work was an exploration into animating street furniture co devised and created with artist Roger Hartley.
Sidney and Nancy are two radio-controlled wheelie bins that amaze and entertain people in a unique and surreal manner. Sid is a quiet bachelor waiting for true love to come his way. Nancy is tall and yellow, the "plus belle of poubelles." Both Nancy and Sidney can listen and talk as well as chase, carry, push and pull people while the Boffins lurk lovingly eyeing and controlling their creations.
They performed at 100's of shopping malls and street festivals throughout Europe.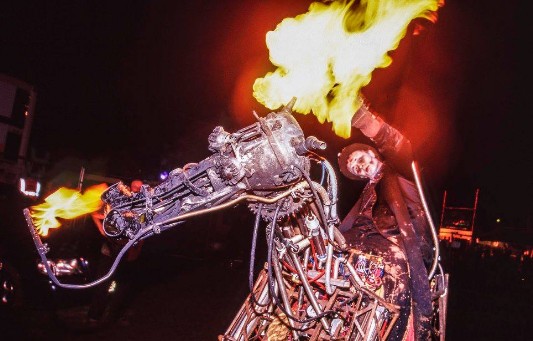 Horse work 1999 - current
Paka has been working with his horses since 1999 creating Don Quixote themed shows of differing styles and scales, with different collaborators, from pyrotechnic spectaculars in Underground Art Festivals, jaw dropping street animations in Beijing to theatrical mime for the London International Mime Festival; even performing for the Queen in the UK.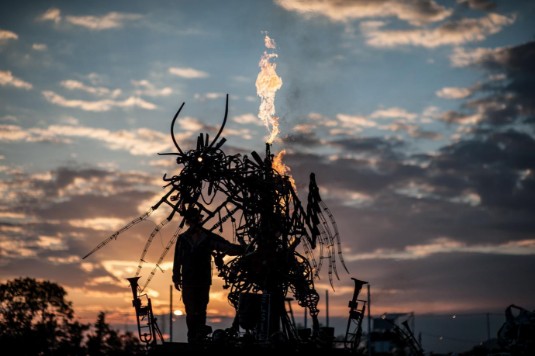 Dragon Work 2011- current
The Dragon work was a deliberate departure from the thematic content of the human condition.
"Life has constraints to freedom, even if they are pleasurable. What is left to us then but Fantasy?"
Paka's responsibilities as a single parent made him concentrate more on the animatronic, sculptural side of his work. He chose to make a fantasy creature in contrast to previous work in real form. He wished to create a touring entity that did not need his presence. The result was Elsie Dragon named after his daughter. Elsie Dragon: has travelled all over Europe and even ventured to Japan. She is still in demand.
Medusa the new project
2021 - into the future