The evolution of Paka the Uncredible: The Matilda show
Paka the Uncredible and Matilda 1994 - 2003
Paka a cantankerous old man, having surfed the seas of alternative comedy and new circus, decayed through the era of Glam and Glitz, is now left with nagging questions about the validity of his own existence. Who am I? … What am I? …What am I doing here? …
Matilda, a six wheeled, motorized, flame spitting, insect bike (his co-star and only friend) has her own agenda. This causes a constant tension in their relationship.
Matilda the insect bike was originally commissioned for a Dutch film
Sirko by Ineke Smits
in 1993
. She had seen DNTT perform in Berlin in1992. Paka devised the Matilda show in Spain in 1994 for the wake of a good Spanish friend. His death led to Paka's departure from Spain. On his return to Hackney, London he had a chance meeting with Chris Meikan who was then setting up Continental Drifts and Julian Rudd who was forming a new circus with Matt Churchill called Mamaloucous. Paka consolidated the new show touring with the circus in 1995.
Successful appearances at
Oerol Festival on Terschelling Island
for
Yoop Mulder
in 1996 catapulted Paka's new solo show onto the European arts festival scene. With the support of
Continental Drifts
this flourished over many shows, many countries and many years.
Matilda also appeared in
the DNTT show F88 in berlin in 1996. The quantity of work generated in Holland over this period led to Paka staying at 'The Silo'; an arts centre in Amsterdam. Here he met members of the Silo Theatre and also Maik Ter Verr. The silo was evicted and Paka helped in finding and moving to the ADM on the edge of Amsterdam. Maik set up the initial Robodock festivals at this site.
"Paka whose set up for his spiffing slack rope act, was the most bizarre that anyone could hope for."
'Paka knows how to play a full house with an awesome easiness.'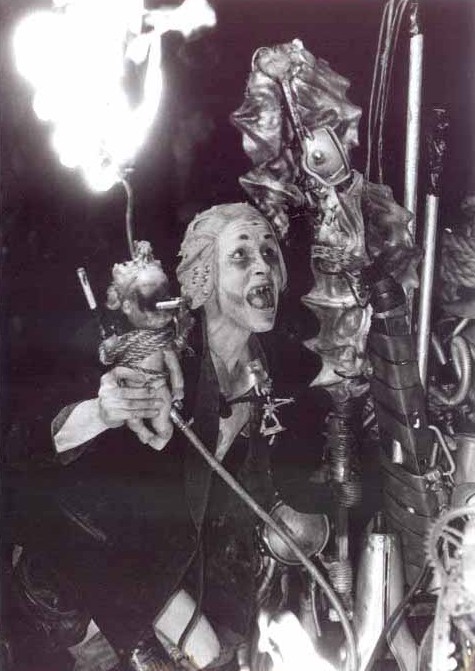 "He works his audience from disgust to delight, combining enchanting vulnerability
with completely revolting behaviour. He is eternally watchable..."…