Rusty the Horse
is visually extraordinary; a remote control kinetic entity that acts as a people magnet. With his own distinct character, philosophy and ego, he leaves the audience feeling they have met an odd but real horse.
Paka sends thanks to Ricciotti Molfese for being the best horse operater in our universe .
The theatre and mayhem are derived from the interaction between Paka, Rusty the Horse and the audience. It is in fact a double act albeit one half is robotic. The characters that inhabit this slice of parallel reality have an endearing universal relationship, where differences of priority and agenda have obscured the common goal.
Paka has been working with his horses since 1999 creating Don Quixote themed shows of differing styles and scales, with different collaborators, from pyrotechnic spectaculars in Underground Art Festivals, jaw dropping street animations in Beijing to theatrical mime for the London International Mime Festival (LIMF): even performing for the Queen in the UK.
On his inspiration for this project Paka says:
"The horses were originally built from inherited wheel chairs. Around the death of my 96-year-old 'Gran' who I had loved dearly I started reading
Don Quixote by Cervantes,
these events set me off on the horse work road. It has travelled far and met with great acclaim."
Paka
is a cantankerous old man lost in the twilight of obsession, having misplaced the thread between fantasy and reality he is off on his final adventure. A head full of romantic dreams and a pocket full of nuts and bolts. He is on a quest for love and sunsets to ride into. A contemporary Don Quixote armed with roses, pyrotechnic gadgets and a tantalising whiff of razzmatazz.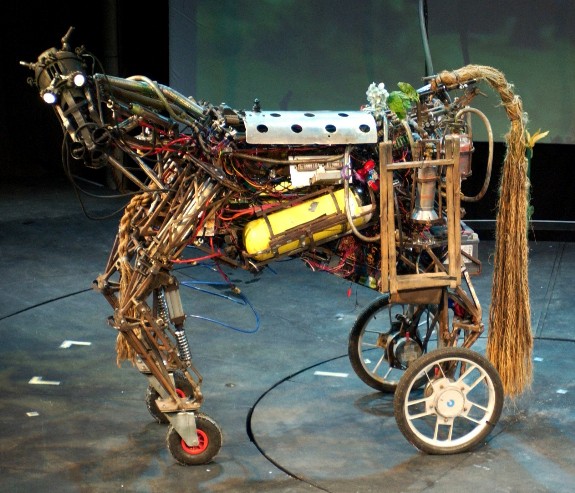 Guardian Review Jan 2004
"The full-sized horse has to be seen to be believed: it is an extraordinary junk-metal creation with moving parts and it exudes the thrilling and terrifying power of real flesh and blood."
What
'
s On Magazine. Jan 2004
'But the most astonishing thing about the show has to be the Robotic Horse. A masterpiece of pneumatics and sculptural engineering, this remote-controlled creature all but steals the show. Never did the audience view it as anything but real as it cantered around the stage……and even breathed fire.
"That's the biggest audience I've ever seen at this event."
Kat organiser of Winchester Hat Fair 2001