COMMISSIONS

ARTWORK FOR & WITH OTHERS
The Flame thrower Installation for "Out There Arts" was a collaboration with a very old friend Eddie Egal from the DNTT days. It was negotiated as Covid Lockdown started and Brexit confirmed.
"My relationship with the key members of the Out There team is longstanding and I admire what they do."
This is a temporary site-specific installation in the recently refurbished Venetian Garden along the Great Yarmouth seafront. Imagery of the key

components can be found here; to be updated as the installation develops (expected to take place in Autumn 2021).
creating a dragnohead wich works interactive on a slot machine...
The Dragon neck "Ethel" was adapted for Odo Rumpf to install in his scrap yard beer garden in Cologne. A sculptural artist in his own right: He hosts an annual festival of robot art called Robodonien in his fantastical and bizarre space. I have contributed work to many of these events. I grew too really like the' yard' and the people involved. It seemed a natural place for one of my 'babies' to retire from the hectic touring schedule.
With the help of a young programming Bad boy from Bruton named Nick Shanks we created a slot machine operated control box for "Ethel" with 10 random operation patterns.
The process and the end product are documented.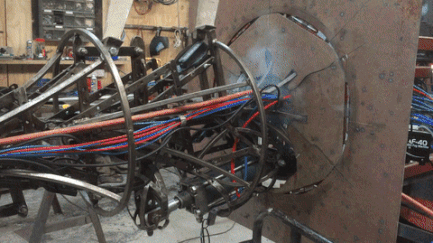 "I don't do a lot of commissions. The robotic/kinetic nature of the work combined with my level of obsession to detail is not compatible to the commercial reality. I build stuff to tour for 10 years and hope by the end of this timespan the work has generated enough income to be worth the time invested. Time being the only finite commodity."
"I get very attached to the work I build and find it really hard to let these babies go. The two examples in this section are commissions I've undertaken in the last few years.
However, the touring that normally supports me and my family is still uncertain due to the combination of Covid and Brexit. So, if you want something Unique and you have deep pockets please don't be scared to ask."